ERGODRIVE
SERVO-DRIVE FOR TEXTILE LOOMS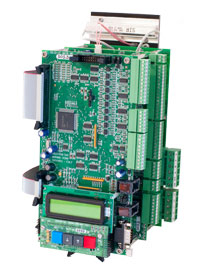 Digital servo-drive for main drive, take-up, let-off and winder

Wide power range and high performances in compact dimensions

Easy to adjust and full automatic operating with any kind of yarn

Load cell input for warp tension control

Master/Slave communication for synchronized weaving

Predisposed for remote control and programming unit
Ergotron presents a digital servo-drive for textile looms, which includes their four basic applications:
ERGODRIVE has been equipped with software required for the four applications. This software enables the operator to control and electronically regulate important parameters as loom speed, slow motion speed, weft density, warp tension and cloth winding tension.
The innovation of this system consists in the synchronism of its four applications. When a variation is carried out on one or more parameters of ERGODRIVE, the other three immediately review and adapt their reference data.
The benefits resulting from this feature are an extreme regularity of weaving and the possibility of dynamic changes ordered either by remote control or by ERGODRIVE itself in loom speed, weft density, warp and cloth winding tension.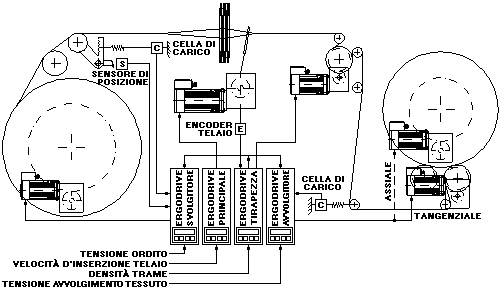 ERGODRIVE can be applied on every kind of loom, both new ones, with sophisticated electronic components able to communicate with serial interface, and on looms, which are not equipped with microprocessor.
On these latter, ERGODRIVE offers to the weaver the possibility of setting and visualizing the weaving data, as if it were a loom of the latest generation.
Programmable inputs and outputs according to the application

Motor and master encoder inputs

Programmable output for simulating encoder

Programmable inputs for speed reference and torque control

programmable inputs for load cell, analogic sensor and potentiometer

17 digital inputs – 2 analogic inputs
3 digital outputs – 1 programmable analogic output

EEPROM for configuration parameters backup

Display monitor in seven languages (ITA-ENG-DEU-FRA-ESP-POR-DUT)

Predisposed for having keyboard and display remote-controlled

RS485 serial interface for Master/Slave control

RS485 serial interface for loom CPU remote control and programming unit
Communication software for PC desktop, notebook and pocket PC handhelds